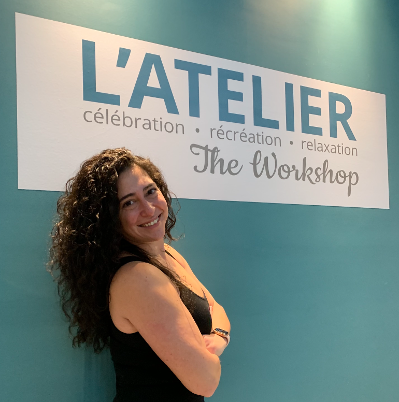 COURS PRÉFÉRÉS DE DANIELLE:
Zumba Bootcamp, Cardio Core + More, Zumba Shannon
ENTRAÎNEURS PRÉFÉRÉ(S):
Shannon Blackwood
POURQUOI?
Je fais 4 cours par semaine , tous les cours donnés par Shannon Blackwood. Depuis que j'ai commencé il y a deux ans, Shannon prend toujours le temps de rester en contact avec les membres qui font ses cours.Son entregent, son enthousiasme et sa passion dans ce qu'elle fait sont juste quelque unes de ses qualités. Elle connaît bien ses participants , et ses cours sont toujours adaptés . Les routines sont changées , et elle s'assure toujours de nous inspirer à se dépasser. Je pourrais écrire des pages et des pages à propos de Shannon en tant qu'instructeur, mais ça prend juste un essai de un de ses cours pour comprendre!
MOMENTS FAVORIS?
Les beaux moments passés avant et après les cours à discuter avec Shannon et le magnifique groupe de personnes présentes. Quand les instructeurs donnaient des cours gratuitement tout l'été 2020 et amassaient des fonds pour des œuvres caritatives.
L'EXPÉRIENCE VIRTUELLE?
L'expérience virtuelle est très bonne - je suis tellement contente de pouvoir continuer mes entraînements avec Shannon et les autres membres- c'est une belle communauté
QUE DIRIEZ-VOUS À QUELQU'UN QUI ENVISAGE DE REJOINDRE LE STUDIO?
Ça vaut tellement la peine - la qualité des cours est exceptionnelle et pouvoir rester en contact avec les membres et s'entraîner ensemble est super motivant. Also, Karen n'est pas une propriétaire de studio typique - elle connaît chaque membre et la classe que tout le monde assiste. Elle enseigne un cours de Barre et participe à de nombreux autres cours - elle est toujours disponible pour répondre aux questions et très ouverte aux commentaires - ce studio est vraiment un petit village de gens formidables
FAITES L'EXPÉRIENCE PAR VOUS-MÊME! REJOIGNEZ DANIELLE EN COURS MAINTENANT ⇩
DANIELLE'S FAVOURITE CLASSES:
Zumba Bootcamp, Cardio Core + More, Zumba Shannon
FAVOURITE INSTRUCTOR(S):
Shannon Blackwood
WHY?
I take 4 classes a week, all taught by Shannon Blackwood. Since I started two years ago, Shannon always takes the time to stay in touch with the members who take her classes. Her interpersonal skills, her enthusiasm and her passion for what she does are just some of her qualities. She knows her participants well, and her classes are always adapted. The routines change, and she always makes sure to inspire us to surpass ourselves. I could write pages and pages about Shannon as an instructor, but you just have to try one of her classes to understand!
FAVOURITE MOMENTS?
The beautiful moments before and after class chatting with Shannon and the wonderful group of people present. When instructors were giving classes for free all summer 2020 and raising money for charity.
THE VIRTUEL EXPERIENCE?
The virtual experience is very good - I'm so happy to be able to continue my training with Shannon and the other members - it's a great community
WHAT WOULD YOU SAY TO SOMEONE CONSIDERING JOINING THE STUDIO?
It is so worth it - the quality of the classes is exceptional and being able to stay in touch with the members and train together is super motivating. Karen is not your typical studio owner - she knows every member and which class everyone attends. She teaches a Barre class and participates in a lot of other classes - she's always available to answer questions and very open to feedback - this studio is truly a little village of awesome people.
EXPERIENCE IT FOR YOURSELF! JOIN DANIELLE IN CLASS NOW ⇩