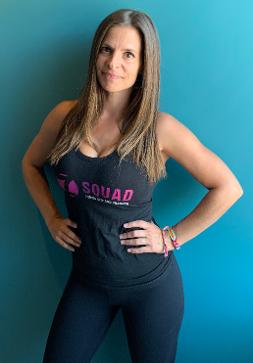 Si vous avez assisté à un cours de Zumba à L'ATELIER The Workshop, vous savez que l'énergie contagieuse de Gen et ses superbes chorégraphies sont le moyen idéal de bouger tout en s'amusant!
Accueillante pour tous ceux qui rejoignent sa classe, Gen vit vraiment selon le slogan de Zumba, Ditch the Workout, Join the Party!
A rejoint L'ATELIER: Septembre 2018
Fait surprenant:
Même si cela n'en a pas l'air, je suis la personne la plus timide de tous les temps, mais la Zumba m'a permis de m'exprimer d'une manière qui enlève cette timidité. 🙈
Talent caché:
Évidemment, tous ceux qui assistent à mes cours savent que j'ai un talent pour le chant ! 🎤
Cheminement vers l'enseignement:
Je suis devenu instructeur il y a environ 9 ans. J'ai commencé la Zumba en tant que participant avec l'un des meilleurs instructeurs. Elle a fini par quitter le gymnase et j'ai repris les cours. 💪🏻
Exercice préféré en dehors du studio:
Pré-covid, j'aimais m'entraîner au gymnase pendant les heures du Lunch. Maintenant, quand le temps le permet, j'aime passer du temps dehors!
Collation santé préférée:
Je n'ai pas de collation santé préférée. Un jour, je peux manger un sac entier de chips à un sac entier de petites carottes. Je crois à l'équilibre. J'aime la nourriture. J'aime manger!
Gâterie préférée:
Définitivement un verre ou deux de Prosecco 🥂
Nommez quelques moments préférés des participants depuis ton arrivée à L'ATELIER
- Quand les participants se souviennent des routines alors que j'oublie!
- Quand tout le monde chante pendant les cours!
Si vous voulez changer votre routine et rejoindre un cours qui vous incitera à chanter à voix haute, consultez le cours de Zumba de Gen en demandant un essai gratuit!
If you've been to a Zumba class at L'ATELIER The Workshop you know Gen's infectious energy and great choreography is a perfect way to work up a sweat while having a ton of FUN!
Welcoming to all who join her class, Gen truly lives by the Zumba tagline, Ditch the Workout, Join the Party!
Joined L'ATELIER: September 2018
Surprising fact:
Although it might not look like it, I'm the most shy person ever but Zumba as permitted me to express myself in a way that takes away that shyness. 🙈
Hidden talent:
Obviously everyone who is attends my classes know that I have a talent in singing! 🎤
Journey to instructing:
I became an instructor about 9 years ago. I started Zumba as a participant with one of the best instructors. She ended up leaving the gym and I took over the classes. 💪🏻
Favourite exercise outside the studio:
Pre-covid I loved to train at the gym during lunch hours. Now when time permits, I enjoy the outdoors!
Favourite healthy snack:
I don't have a favorite healthy snack. One day I can go from eating an entire bag of chips to eating an entire bag of baby carrots. I believe in balance. I love food. I love eating!
Favourite treat:
Definitely a glass or two of Prosecco 🥂
Name a few favourite participant moments since joining L'ATELIER
- When participants remember the routines when I don't!
- When everyone sings along during class!
If you want to shake up your routine and join a class that will inspire you to sing along out loud, check out Gen's Zumba class by requesting a free trial!