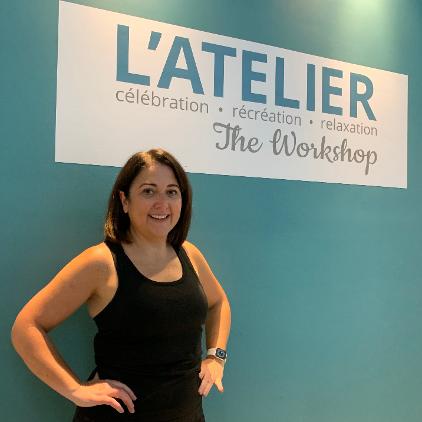 COURS PRÉFÉRÉS DE JENNIFER:
Pilates, Barre Fit & Zumba Bootcamp
ENTRAÎNEURS PRÉFÉRÉS:
Karen Q, Karen JT & Shannon
POURQUOI?
Je suis avec Karen Q depuis plus de 14 ans maintenant. Elle est une grande partie de la raison pour laquelle je fais de l'exercice depuis de nombreuses années. Une âme bienveillante qui est un grand facteur de motivation. J'ai rencontré Karen JT et Shannon à L'ATELIER. Karen JT donne ses cours avec une excellente instruction, un grand sourire et des mots d'encouragement. Son ton de voix est apaisant et ses mots sont précis, de sorte que le suivi est irréfléchi. Très agréable. Et Shannon, eh bien avec elle, il y a cette compréhension mutuelle entre elle et ses élèves qu'elle veut botter le cul et nous voulons qu'on nous botte le cul ! Transpirez comme jamais auparavant. J'adore sa grande énergie, son sens de l'humour et sa compétitivité. Bien que "tout fasse mal" après ses cours, elle nous garde jeunes et revient pour plus. J'aime ça.
MOMENTS FAVORIS?
L'année dernière a été un défi pour le monde. Une pandémie mondiale a le moyen de transformer les gens en individus orientés vers les solutions. Surtout quand ils aiment et veulent s'accrocher à leur régime d'exercice. Karen JT a rendu cela possible pour nous. Grâce à tous les petits ajustements techniques et investissements nécessaires pour que nos cours continuent à nous être accessibles, elle est allée au-delà. Elle nous a gardés connectés, motivés et actifs. Pour cela, je suis si reconnaissante.
J'ai aussi adoré les cours gratuits en plein air à Forest Hill Sr. après le premier couvre-feu COVID. Une participation énorme avec des sourires et de l'excitation.
L'EXPÉRIENCE VIRTUELLE?
J'étais très réticent à vivre une expérience virtuelle. L'année dernière, cette pandémie nous a tous poussés à essayer de vivre des choses que nous n'aurions peut-être jamais envisagées. Bref, j'aime ça! C'est une autre option qui facilite l'accès à l'exercice !!
QUE DIRIEZ-VOUS À QUELQU'UN QUI ENVISAGE DE REJOINDRE LE STUDIO?
Tu aurais dû le faire il y a des années !! Tu l'adoreras! Quel que soit votre niveau de forme physique, nous nous soutenons tous et nous nous défions les uns les autres pour être le meilleur possible.
Le studio ne propose pas que des cours de fitness. Il offre un environnement magnifique, bien géré et propre où l'exercice n'est pas le seul objectif. L'encouragement est fort pour rire, parler, faire de l'exercice, plaisanter, se motiver et se soutenir mutuellement, à travers vents et marées. Je me suis fait des amis spéciaux grâce à L'ATELIER.
FAITES L'EXPÉRIENCE PAR VOUS-MÊME! REJOIGNEZ JENNIFER EN COURS MAINTENANT ⇩
JENNIFER'S FAVOURITE CLASSES:
Pilates, Barre Fit & Zumba Bootcamp
FAVOURITE INSTRUCTOR(S):
Karen Q, Karen JT & Shannon
WHY?
Been with Karen Q for over 14 years now. She is a big part of why I have been exercising for many years. A kind soul who is a great motivator. I met Karen JT and Shannon at L'ATELIER. Karen JT delivers her classes with great instruction, a great big smile and words of encouragement. Her tone of voice is soothing and her words are accurately specific so that following along is thoughtless. Highly enjoyable. And Shannon, well with her, there is this mutual understanding between her and her students that she wants to kick ass and we want our asses kicked! Sweat like never before. Love her high energy, sense of humour, and competitiveness. Although "everything hurts" after her classes, She keeps us young and coming back for more. Love that.
FAVOURITE MOMENTS?
The last year or so has been challenging for the world. A world-wide pandemic has a way of turning people into solution oriented individuals. Especially when they enjoy and want to hold on to their exercise regime. Karen JT made that possible for us. Through all the little technical adjustments and investments required to make our classes continue to be available to us, she went above and beyond. She kept us connected, motivated, and active. For that I am so grateful and appreciative.
I also loved the free outdoor classes at Forest Hill Sr. after the first COVID lock down. Huge participation with smiles and excitement.
THE VIRTUEL EXPERIENCE?
I was very reluctant to have a virtual experience. This past year, this pandemic pushed all of us to try and experience things that we may never would have considered. Bottom line, I like it! It's another option that make access to exercising easy!!
WHAT WOULD YOU SAY TO SOMEONE CONSIDERING JOINING THE STUDIO?
You should have done it years ago!! You'll love it! Regardless of your fitness level, we all support each other and challenge each other to be the best that we can be.
The studio doesn't only offer fitness classes. It offers a beautiful, well-run, clean environment where exercise is not the only focus. Encouragement is strong to laugh, talk, exercise, joke, motivate, and support each other, through thick and thin. I have made some special friends through L'ATELIER.
EXPERIENCE IT FOR YOURSELF! JOIN JENN IN CLASS NOW ⇩