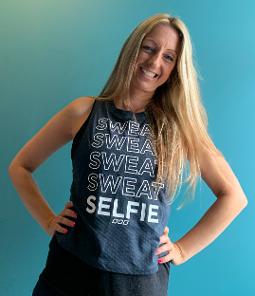 Avec L'ATELIER depuis: Septembre 2017
Exercice préféré en dehors du studio: Utiliser ma Simply Fit Board et faire du vélo à l'extérieur
Collation santé préférée: Clémentines et noix
Gâterie préférée: Un cornet de crème molle trempé au chocolat
Moments préférés depuis ton arrivée à L'ATELIER:
- Quand les gens me disent à quel point ma classe les fait SENTIR!
- Faire preuve de créativité pour que les cours continuent - comme au moment où j'enseignais un cours Zoom, mon iPod est mort! J'ai augmenté le volume de mon iPhone et l'ai placé à côté du micro de mon casque pour que les participants puissent entendre la musique à la maison et terminer l'entraînement!
- Quand mes participants émettent des sons comme s'ils souffraient quand j'enseigne un cours de Pilates intense LOL!
- Enseigner une nouvelle chorégraphie à mes cours!
Si vous voulez être mis au défi de tirer le meilleur parti de votre cours, si vous aimez la bonne musique et si vous aimez un instructeur avec une vision positive fantastique de la forme physique, de la santé et de la vie, rejoignez KarenQ dans l'un de ses cours! Demandez un essai gratuit MAINTENANT!
Joined L'ATELIER: September 2017
Favourite exercise outside the studio: Using my Simply Fit Board & biking outside
Favourite healthy snack: Clementines & nuts
Favourite treat: A chocolate dipped ice cream cone
Favourite participant moments since joining L'ATELIER:
- When people tell me how great my class makes them FEEL!
- Getting creative to keep classes going - like the time when teaching a Zoom class my iPod died! I put my iPhone volume up high and placed it next to my headset mic so participants could hear the music at home and finish the workout!
- When my participants make sounds like they are suffering when I'm teaching an intense pilates class LOL!
- Teaching new choreography to my classes!
If you want to be challenged to get the most out of class, if you love great music and an instructor who has a fantastic positive outlook on fitness, health & life, come join KarenQ in one of her classes! Request a free trial NOW!