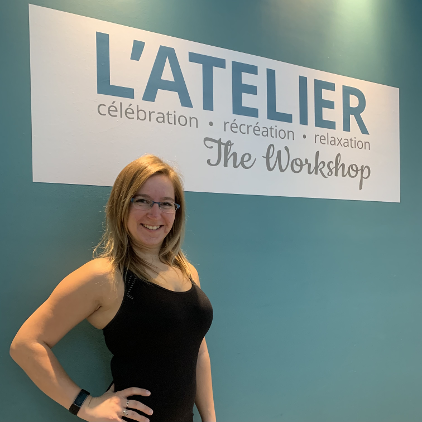 COURS PRÉFÉRÉS DE MEGHAN:
Zumba Gen
ENTRAÎNEURS PRÉFÉRÉ(S):
Gen Normand
POURQUOI?
Gen est une super danseuse et elle sait se laisser aller et s'amuser. Son style d'enseignement me convient et je trouve que nous nous intégrons bien. Je reçois un excellent entraînement cardio et j'apprécie vraiment sa classe dans l'ensemble. Zumba m'a aidé à améliorer mon cardio, à améliorer mes squats et a été un ajout très amusant à ma routine d'entraînement hebdomadaire!
MOMENTS FAVORIS?
C'était très amusant de pouvoir faire des cours tous ensemble à l'extérieur sur le parking.
L'EXPÉRIENCE VIRTUELLE?
C'était formidable qu'ils ils ont investi dans une configuration légitime afin de nous offrir la meilleure expérience en ligne possible.
QUE DIRIEZ-VOUS À QUELQU'UN QUI ENVISAGE DE REJOINDRE LE STUDIO?
J'adore l'ambiance décontractée du studio. Le système audio est génial, tout comme les lumières de fête! Et Karen est super sympa et serviable! C'est un endroit idéal pour participer aux classes de Zumba, de Barre et d'autres types de cours! C'est une super communauté :)
FAITES L'EXPÉRIENCE PAR VOUS-MÊME! REJOIGNEZ MEGHAN EN COURS MAINTENANT ⇩
MEGHAN'S FAVOURITE CLASSES:
Zumba Gen
FAVOURITE INSTRUCTOR(S):
Gen Normand
WHY?
Gen is a great dancer and she knows how to let go and have fun. Her teaching style works for me, and I find we mesh well. I get a great cardio workout and just really enjoy her class overall. Zumba has helped me improve my cardio, increase my squat game, and has been a seriously fun addition to my weekly workout routine!
FAVOURITE MOMENT?
It was a lot of fun when we were able to do classes all together outside in the parking lot.
THE VIRTUEL EXPERIENCE?
It was great that they went out of their way to get a legit setup to give us the best online experience possible.
WHAT WOULD YOU SAY TO SOMEONE CONSIDERING JOINING THE STUDIO
I love the chill vibe of the studio. The sound system is great, and so are the party lights! And Karen is super friendly and helpful! It's a great place to join for Zumba, Barre, and other types of classes! It's a great community :)
EXPERIENCE IT FOR YOURSELF! JOIN MEGHAN IN CLASS NOW ⇩