MEMBER • MOMENTS • MEMBRE
Apprenez-en plus sur nos incroyables membres et leurs parcours de santé et de remise en forme.
Learn more about our amazing members and their health & fitness journeys.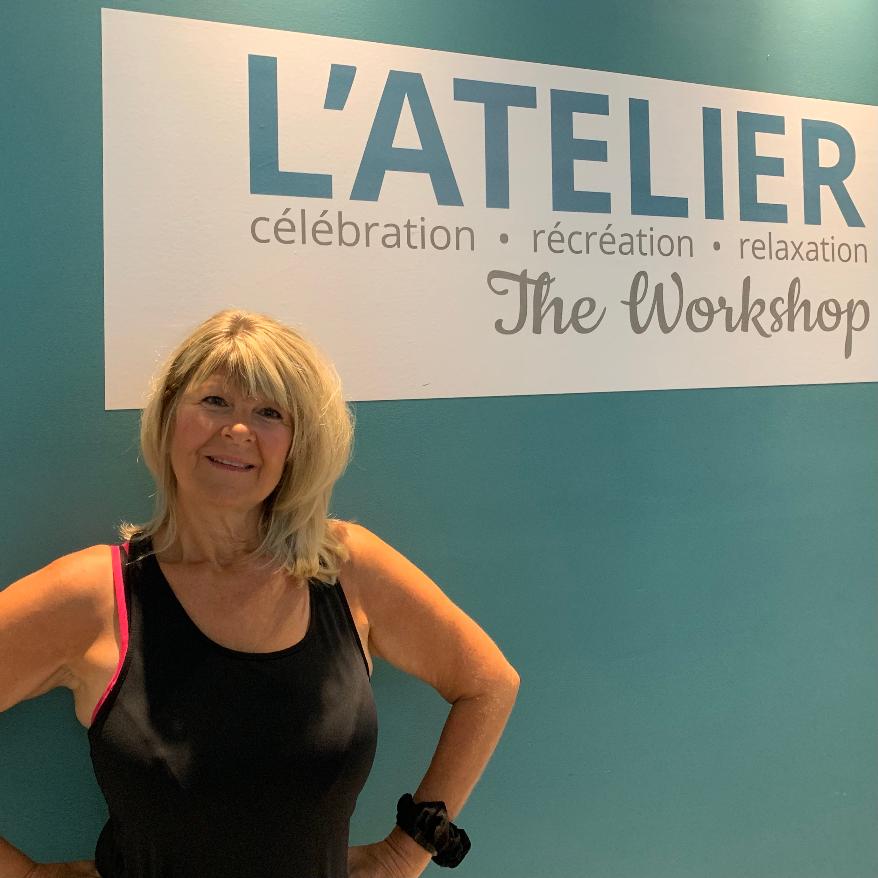 Charlene G. (61 ans / years)
MEMBRE DUPUIS • MEMBER SINCE:
octobre 2017 • October 2017
COURS PRÉFÉRÉS DE CHARLENE:
Oh non, je ne peux pas choisir... J'aime vraiment tous les cours et je n'en manque pas beaucoup. Chacun me pousse de différentes manières. Qu'il s'agisse de danser et de brûler des calories folles avec Zumba ou Zumba Bootcamp, ou de développer mes muscles avec Cardio Core + More et BodyWork, ou de renforcer mon corps et mon tronc avec Strong, Pilates et Barre, tous les cours m'aident à renforcer ma confiance, à évacuer le stress et rend moi HEUREUSE!
ENTRAÎNEURS PRÉFÉRÉ(S):
Le studio a un merveilleux groupe d'instructeurs. Elles sont professionnelles, énergiques, qualifiés et se soucient vraiment des membres. Ils me motivent à bouger et à m'aimer. Je suis toujours étonné quand ils me contactent personnellement pour vérifier si je manque un cours pour s'assurer que tout va bien. Je suis si heureux de les appeler tous mes amies.
QUEL A ÉTÉ NOTRE MOMENT PERSONNEL PRÉFÉRÉ L'ANNÉE DERNIÈRE?
S'engager à devenir une personne plus saine et plus forte et s'y tenir. Regarder en arrière ce que je n'ai pas pu faire par rapport à ce dont je suis capable maintenant, c'est fou ! Je dois vraiment remercier l'équipe d'instructeurs pour continuer à repousser mes limites!
QUEL A ÉTÉ VOTRE MOMENT COMMUNAUTAIRE PRÉFÉRÉ?
Beach Fitness Fiesta cours dehors en mai a été une soirée magique ! Toute l'équipe d'instructeurs et le studio se sont réunis à bouger et amasser des fonds pour quatre organismes de bienfaisance. L'esprit et l'énergie de la communauté étaient incroyables...
L'EXPÉRIENCE VIRTUELLE?
Alors que je suis une personne face à face parce que je sens que je me pousse plus fort en classe, je suis un snowbird à la retraite et je voyage chaque hiver. J'aime avoir la possibilité de suivre un cours de zoom depuis n'importe où dans le monde ou d'utiliser la bibliothèque si je manque un cours en direct.
QUE DIRIEZ-VOUS À QUELQU'UN QUI ENVISAGE DE REJOINDRE LE STUDIO?
Ce n'est pas un gym ou un studio, c'est une famille. C'est mon endroit heureux. Karen, la propriétaire, fait de son mieux pour proposer un programme axé sur la danse et le fitness avec autant d'options de cours différentes. Il y en a pour tous les goûts que ce soit de la danse ou du cardio ou de la musculation ! Inscrivez-vous maintenant... n'attendez pas... vous ne le regretterez pas !
FAITES L'EXPÉRIENCE PAR VOUS-MÊME! REJOIGNEZ CHARLENE EN COURS MAINTENANT ⇩
CHARLENE'S FAVOURITE CLASS(ES):
Oh no I can't choose... I seriously love all of the classes and don't miss many. Each one pushes me in different ways. Whether its dancing and burning crazy calories with Zumba or Zumba Bootcamp, or building muscle with Cardio Core + More and BodyWork,or strengthening my body and core with Strong, Pilates and Barre, all of the classes help to build my confidence, release stress and make me HAPPY!
FAVOURITE INSTRUCTOR(S):
The studio has an wonderful group of instructors. They are professional, energized, qualified and truly care about the members. They motivate me to move and love myself. I'm still amazed when they reach out to me personally checking in when I miss a class to make sure I'm okay. I'm so happy to call them all my friends.
WHAT WAS OUR FAVOURITE PERSONAL MOMENT IN THE LAST YEAR?
Making a commitment to become a healthier, stronger person and sticking to it. Looking back to what I was not able to do versus what I am capable of now is crazy! I truly have the team of instructors to thank to continue to push my limits!
WHAT HAS BEEN YOUR FAVOURITE COMMUNITY MOMENT?
Beach Fitness Fiesta outside class in May was a magical evening! The whole instructor team and studio came together to move and raise money for four charities. The community spirit and energy was amazing...
THE VIRTUEL EXPERIENCE?
While I am a face to face person because I feel that I push myself harder in class, I am a retired snowbird and travel every winter. I love having the flexibility of being able to do a zoom class from anywhere in the world or to use the library if I do miss a livestream class.
WHAT WOULD YOU SAY TO SOMEONE CONSIDERING JOINING THE STUDIO?
This is not a gym, or a studio it's a family. It's my happy place. Karen, the owner, does her best to provide a dance fitness focused program with so many different class options. There is something for everyone whether it's dance or cardio or strength training! Join now... don't wait .. you won't regret it!
EXPERIENCE IT FOR YOURSELF! JOIN CHARLENE IN CLASS NOW ⇩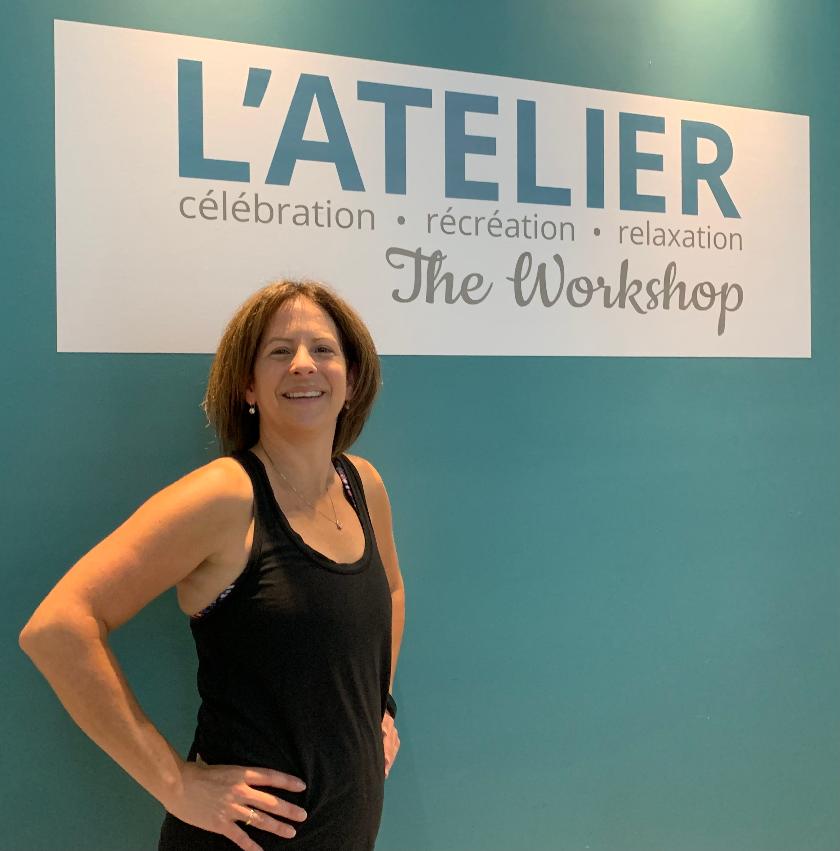 Linda W. (53 ans / years)
MEMBRE DUPUIS • MEMBER SINCE:
juin 2017 • June 2017
Catherine N. (32 ans / years)
MEMBRE DUPUIS • MEMBER SINCE:
septembre 2018 • September 2018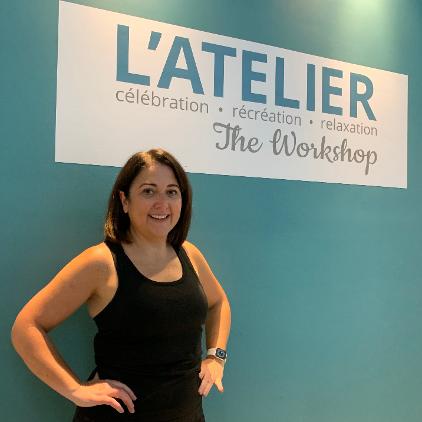 Jennifer B. (49 ans / years)
MEMBRE DUPUIS • MEMBER SINCE:
septembre 2018 • September 2018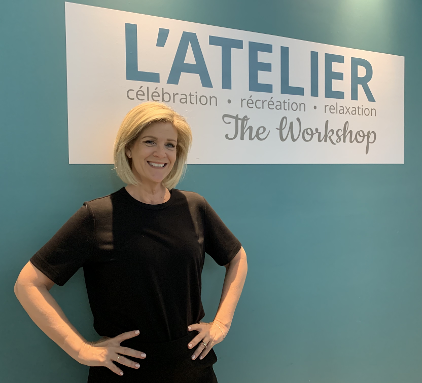 Sue J. (51 ans / years)
MEMBRE DUPUIS • MEMBER SINCE:
août 2018 • August 2018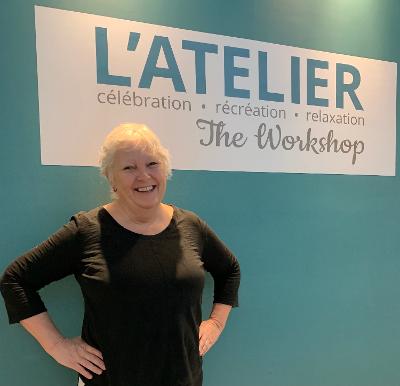 Karen K. (62 ans / years)
MEMBRE DUPUIS • MEMBER SINCE:
september 2019 • September 2019
Lynn C. (46 ans / years)
MEMBRE DUPUIS • MEMBER SINCE:
août 2019 • August 2019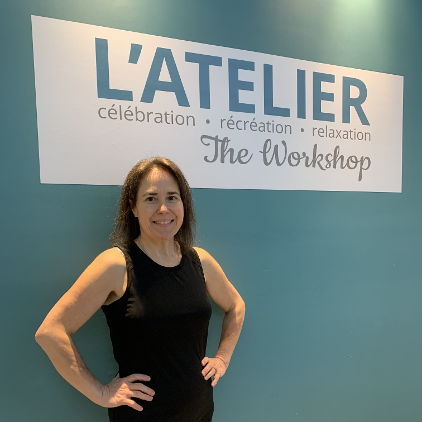 NANCY M. (51 ans / years)
MEMBRE DUPUIS • MEMBER SINCE:
août 2018 • August 2018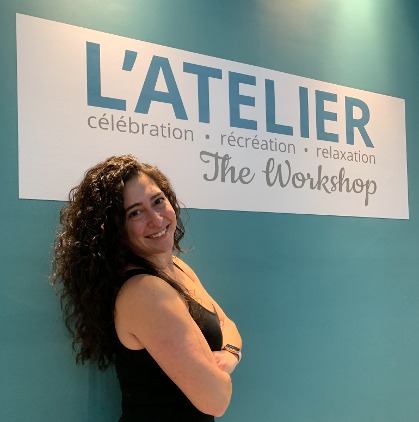 DANIELLE K. (35 ans / years)
MEMBRE DUPUIS • MEMBER SINCE:
mars 2019 • March 2019