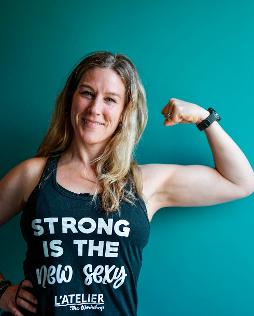 Avec L'ATELIER depuis: Septembre 2019
Exercice préféré en dehors du studio: Canoë, kayak, paddle board - si c'est sur l'eau, je suis là !! 🛶
Collation santé préférée: Lentilles sel et vinaigre séchés 😋
Gâterie préférée: Je ne vais par mentir - LA BIÈRE 🍺
Moments préférés depuis ton arrivée à L'ATELIER:
- Quand les personnes me parlent de leur objectifs qu'ils ne pensaient pas atteindre et que finalement cet objectif est dépassé!
- Les gens apprennent à aimer le burpée!
Chaleureuse avec tous ceux qui prennent sa classe, Meg est véritablement investie dans le succès de chaque participant et de leur progrès à devenir plus fort, plus en forme et plus flexible. Demandez un essai gratuit MAINTENANT!
Joined L'ATELIER: September 2019
Favourite exercise outside the studio:
Canoeing, kayaking, paddle boarding - if it is on the water I'm there!! 🛶
Favourite healthy snack: Dried salt & vinegar lentils 😋
Favourite treat: I'm not going to lie - BEER! 🍺
Favourite participant moments since joining L'ATELIER:
- People personally reaching out to tell me about reaching their once thought of as unachievable goals! I love hearing about people building their confidence through getting STRONG!
- People learning to love the burpee!
Warm & welcoming to everyone who takes her class, Meg is genuinely concerned about each and every participant and their progress towards becoming stronger, more fit and more flexible. Join Meg in a Strong or Barre Fit class soon! Request a free trial NOW!