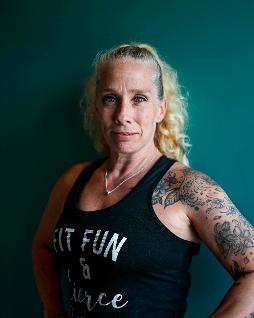 Avec L'ATELIER depuis: Septembre 2018
Fait surprenant: J'adore les cochons et j'adore les tatouages! J'ai en fait 5 tatouages de cochon! 🐷
Talent caché: Je peux jouer de la trompette! 🎺
Cheminement vers l'enseignement: J'ai participé aux cours de Gen et elle m'a poussé à obtenir une certification pour devenir partenaire avec elle et le reste appartient à l'histoire !
Exercice préféré en dehors du studio: la boxe
Gâterie préférée: Dairy Queen
Moments préférés depuis ton arrivée à L'ATELIER:
- Un membre régulier m'a dit dans ses débuts qu'elle ne pouvait pas faire de burpees ou de pushups, mais c'est maintenant l'une des plus fortes!
- Les bloopers de classe virtuelle: quand des difficultés techniques surviennent, les femmes blâment leur conjoint. Les chiens font souvent des drôles de choses en arrière-plan.
Si vous voulez de nouveau venez joindre Shannon dans l'un ou tous ses cours
: Zumba Shannon, Zumba + Bootcamp ou Cardio Core + More. Demandez un essai gratuit MAINTENANT
Joined L'ATELIER: September 2018
Surprising fact: I love pigs and I love tattoos! I actually have 5 pig tattoos! 🐷
Hidden talent: I can play the trumpet! 🎺
Journey to instructing: I was a participant in Gen's classes and she pushed me to get certified to partner with her and the rest is history!
Favourite exercise outside the studio: Boxing 🥊
Favourite treat: Dairy Queen 🍦
Favourite participant moments since joining L'ATELIER:
- How one of my now regular squad member told me her first class that she was not strong, could not do burpees or pushups, BUT now is one of the strongest!
- The virtual class bloopers: when glitches happen, wives blame the husband and dogs get jiggy with it in the background!
If you want to try something new, come join Shannon in one or all of her classes
: Zumba Shannon, Zumba + Bootcamp or Cardio Core + More. Request a free trial NOW!