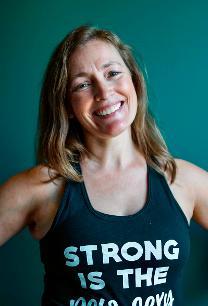 Ouverture de L'ATELIER: juin 2017
Exercice préféré en dehors du studio: Faire des promenades dans la nature 🍃
Collation saine préférée: Yogourt grec avec fruits et granola 🥣 🍓
Gâterie préférée: Un verre de vin - blanc, rosé ou pétillant! 🥂
Moments préférés depuis l'ouverture de L'ATELIER:
- Notre tout premier cours de danse avec l'équipe de la DWA dans notre nouvel établissement.
- Lorsqu'une participante m'a contacté pour me dire comment l'environnement positif que nous avons créé à L'ATELIER The Workshop l'avait aidée à atteindre ses objectifs personnels de santé et de condition physique.
- Le simple fait de toujours être là! Alors que de nombreux studios et gymnases ont fermé leurs portes pendant le COVID, notre équipe s'est réinventée, a persévéré et notre incroyable communauté de danse et de condition physique est restée avec nous pendant tout ce temps! Pour cela, je suis SUPER fière !
Opened L'ATELIER: June 2017
Favourite exercise outside the studio: Walking in nature 🍃
Favourite healthy snack: Greek yogurt, fruit & granola 🥣 🍓
Favourite treat: A glass of wine - white, rose or sparkling! 🥂
Favourite moments since opening L'ATELIER:
- Our very first class with the DWA crew dancing in our new home
- When a participant reached out to tell me how the positive environment we have created @ L'ATELIER The Workshop had helped her to achieve her personal health & fitness goals
- Just being here STILL! As many studios and gyms have closed their doors during COVID, our team has reinvented, persevered and our amazing dance fitness community has stuck with us through it all! For that, I am SUPER proud!