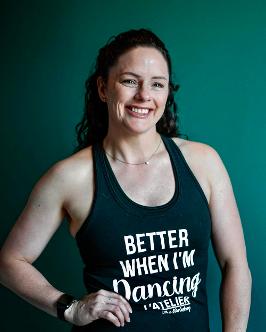 En tant que nouveau membre de l'équipe L'ATELIER, Kate apporte des tonnes d'énergie positive au studio avec sa propre vision de la danse fitness et de la Zumba! Apprenez à la connaître un peu mieux...
A rejoint L'ATELIER: novembre 2021
Fait surprenant: Je connais la langue des signes👌🏻
Talent caché:
Je ne sais pas s'il y a un talent caché mais ma mémoire est excellente 🧠
Cheminement vers l'enseignement:
J'ai toujours aimé la musique et la danse depuis aussi loin que je me souvienne (ma mère dansait toujours dans le salon/la cuisine quand j'étais jeune) et j'ai essayé d'être dans tout ce qui impliquait de la musique. La Zumba est arrivée dans ma vie par hasard alors que je m'entraînais au gym. J'ai vu à quel point cela pouvait être amusant et j'ai aussi adoré me connecter avec tant de gens. J'ai été certifié il y a 9 ans et j'ai continué à ajouter d'autres formats de fitness à ma vie. Maintenant, je suis là, je fais ce que j'aime...❤️
Exercice préféré en dehors du studio:
Vélo 🚲 natation 🏊🏻‍♀️ course 🏃🏻‍♀️et musculation 🏋🏻‍♀️
Collation santé préférée:
Pommes et beurre d'arachide 🍏🥜
Gâterie préférée:
Certainement de la crème glacée (tellement excité que le studio est à côté d'un DQ) 🍦
Nommez quelques moments préférés des participants depuis ton arrivée à L'ATELIER
Voir les participants tomber amoureux d'eux-mêmes et aussi voir les participants se faire certifier. C'est agréable de voir que d'autres personnes suivent les intérêts/rêves et font une différence.
Essayez bientôt le cours Dance Fit Fusion de Kate en demandant un essai gratuit!
As the newest member of team L'ATELIER, Kate brings tonnes of positive energy to the studio with her own take on dance fitness & Zumba! Get to know her a little better...
Joined L'ATELIER: November 2021
Surprising fact: I know sign language👌🏻
Hidden talent:
Not sure if there is a hidden talent but I have a great memory 🧠
Journey to instructing:
I've always loved music and dance since as long as I can remember (my mom would always dance in the living room/kitchen when I was young ) and I tried to be in anything that involved music. Zumba came to my life by any chance while I was working out at the gym. I saw how much fun it could be and also loved connecting with so many people. I got certified 9 years ago and kept adding other fitness formats to my life. Now, here I am, doing what I love...❤️
Favourite exercise outside the studio:
Biking 🚲 swimming 🏊🏻‍♀️ running 🏃🏻‍♀️and weight lifting 🏋🏻‍♀️

Favourite healthy snack:
Apples and peanut butter 🍏🥜
Favourite treat:
Definitely ice cream (SO excited the studio is next to a DQ)🍦
Name a few favourite participant moments:
Seeing participants falling in love with themselves and also seeing participants getting certified. It's nice to see that other people following the interest/dreams and making a difference.
Try one of Kate's Dance Fit Fusion classes soon by requesting a free trial!