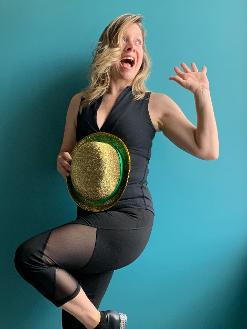 Si vous avez assisté à un cours de JazzWorks ou TapWorks à L'ATELIER The Workshop, vous savez que Donna est enjouée, pleine de vie et entraînante avec sa belle humeur ?! Elle rend la danse accessible en décomposant et en expliquant les combinaisons de danse d'une manière que même un debutant peut suivre facilement!
Avec L'ATELIER depuis: Septembre 2018
Exercice préféré en dehors du studio: Yoga
Collation santé préférée: Houmous avec TOUT!
Gâterie préférée: La crème glacée
Moments préférés depuis ton arrivée à L'ATELIER:
- La première journée des cours !
- Rencontrer la communauté et se faire de nouveaux amis !
Si vous avez toujours voulu essayer quelque chose de créatif et de nouveau mais que vous pensiez que vous ne pouviez pas danser, venez essayer un cours avec Donna. Elle vous montrera étape par étape que vous POUVEZ et vous rirez et vous amuserez en essayant! Demandez un essai gratuit MAINTENANT !
******************************
If you've been to a JazzWorks or TapWorks class at L'ATELIER The Workshop you know that Donna is talented, quirky and fun! She makes dance approachable by breaking down and explaining dance combinations in a way that even the newest dancer can follow with ease!
Joined L'ATELIER: September 2018
Favourite exercise outside the studio: Yoga
Favourite healthy snack: Hummus with ANYTHING!
Favourite treat: Ice cream!
Favourite participant moments since joining L'ATELIER:
- The first dance of classes!
- Meeting the community and making new friends!
If you have always wanted to try something creative and new but you thought you couldn't dance then come try a class with Donna. She will show you one step at a time that you CAN and you'll laugh and have fun while trying! Request a free trial NOW!