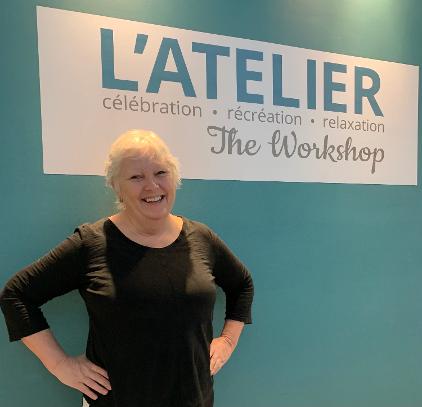 COURS PRÉFÉRÉS DE KAREN:
Strong, Zumba + Bootcamp, Cardio Kick
ENTRAÎNEURS PRÉFÉRÉ(S):
Meg Tucker, Shannon Blackwood &Karen Quilliam
POURQUOI?
Strong parce qu'il me pousse physiquement à chaque cours. Meg est est instructrice de fitness vers laquelle vous gravitez dès que vous la rencontrez. Vraiment une personne authentique qui démontre constamment qu'elle se soucie de tous ses élèves et qui garantit l'inclusion à tous dans chaque cours. Il n'y a jamais personne qui est négligé ou non apprécié. Lorsque vous commencez ce cours, vous vous sentirez immédiatement à l'aise, peu importe où vous en êtes dans votre propre programme de remise en forme. Meg vous montrera tous les exercices avec des modifications pour chacun. Je pense qu'un bon cours doit avoir trois choses : de la bonne musique, une structure avec un bon débit et, par-dessus tout, un coach qui vous incite à faire de votre mieux dans votre entraînement à chaque fois. Meg excelle vraiment dans les trois!
Zumba + Bootcamp est un défi rafraîchissant à chaque fois. Shannon est une véritable source de motivation pour tous ceux qui assistent à ses cours. Il n'y a jamais une classe qui soit la même. Toujours quelque chose de nouveau. Surtout, lorsque vous assistez à l'un de ses cours, vous êtes assuré de transpirer, de rire et de vous amuser tout en vous mettant en forme. Shannon est une "spitfire" et vous serez certainement heureux d'avoir assisté à son cours.
Cardio Kick est revigorant, énergique et FUN! KarenQ. est une instructrice de fitness très expérimentée qui est un maître complet pour s'assurer que sa musique est actuelle, motivante et amusante. Son cours de Cardio Kick est assez énergique, mais comme le dit Karen, "Vous pouvez le rendre plus facile ou plus difficile, tout dépend de vous." Oh, oui et "N'oubliez pas de rentrer votre nombril." Un cours vraiment agréable, à chaque fois.
L'EXPÉRIENCE VIRTUELLE?
L'ATELIER a consacré beaucoup de temps et d'argent pour s'assurer que l'expérience virtuelle soit à jour pour nous !
QUE DIRIEZ-VOUS À QUELQU'UN QUI ENVISAGE DE REJOINDRE LE STUDIO?
Fais-le! Vous ne serez pas déçu par les instructeurs ou la qualité ou la quantité des cours.
Le studio a été un ajout bienvenu à la région de Saint-Lazare pour la forme physique et le plaisir, offrant des cours de danse / fitness diversifiés et tout à fait exceptionnels pour notre communauté. Il y a un cours pour tout le monde, de tout âge, capacité ou niveau de forme physique.
Vous devriez vraiment l'essayer. C'est une grande communauté de faire partie de...
FAITES L'EXPÉRIENCE PAR VOUS-MÊME! REJOIGNEZ KAREN EN COURS MAINTENANT ⇩
KAREN'S FAVOURITE CLASSES:
Strong, Zumba + Bootcamp, Cardio Kick
FAVOURITE INSTRUCTOR(S):
Meg Tucker, Shannon Blackwood & Karen Quilliam
WHY?
Strong because it pushes me physically every single class. Meg is a fitness coach that you gravitate to as soon as you meet her. Truly a genuine person who consistently demonstrates that she cares about all of her students and who ensures inclusivity to all in every class. There is never anyone who is overlooked or unappreciated. When you start this class you will feel immediately comfortable regardless where you are in your own personal fitness regime. Meg will show you all the exercises with modifications for each one. I believe that a great class needs to have three things: great music, structure with a good flow, and above all, a coach that entices you to do your very best in your workout every time. Meg truly excels at all three of these!
Zumba + Bootcamp is a refreshing chalenge every single time. Shannon is a true motivator to all that attend her classes. There is never a class that is the same. Always something new. Above all, when you attend one of her classes you are guaranteed to sweat, laugh and have a blast all while getting fit. Shannon is a "spitfire" and you will definitely be glad that you have attended her class.
Cardio Kick is invigorating, high energy and FUN! KarenQ. is a highly experienced fitness instructor who is a complete master at ensuring that her music is current, motivating and fun. Her Cardio Kick class is quite high energy but also as Karen says, "You can make it easier or harder, it's all up to you." Oh, yes, and "Don't forget to pull in your belly button." Truly an enjoyable class, each and every time.
THE VIRTUEL EXPERIENCE?
L'ATELIER has spent a lot of time and expense to ensure that the virtual experience is up to speed for us!
WHAT WOULD YOU SAY TO SOMEONE CONSIDERING JOINING THE STUDIO
Just do it! You won't be disappointed with the instructors or the quality of classes.
The studio has been a welcome addition to the St. Lazare area for physical fitness and fun, offering diversified dance/fitness classes and quite exceptional for our community. There is a class for everyone, of any age, ability or fitness level.
You really should try it. It's a great community to be a part of...
EXPERIENCE IT FOR YOURSELF! JOIN KAREN IN CLASS NOW ⇩