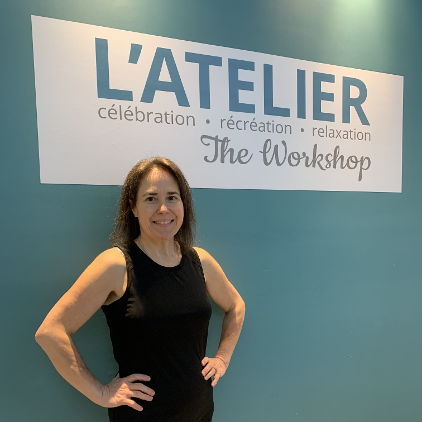 COURS PRÉFÉRÉS DE NANCY:
Pound, Pilates, Barre Fit
ENTRAÎNEURS PRÉFÉRÉ(S):
Karen Q & Karen JT
POURQUOI?
Karen Q. est une personne attentionnée, énergique et enthousiaste. Elle veut toujours que nous tirions le meilleur parti de notre classe et aime sa musique, fort !! Elle aime défier ses élèves et le fait avec un petit rire diabolique! Elle enseigne la Pound et le Pilates, entre autres.
Pound est ma classe préférée - JAMAIS! Cela passe si vite et c'est essentiel pour moi. C'est tellement vrai, le temps passe vite quand on s'amuse!
J'adore les progrès rapides et les résultats du Pilates! Chaque semaine, vous développez votre force et votre endurance. Travaille vraiment votre cœur et tonifie tout votre corps.
Karen JT est une grande motivatrice et apporte de la spontanéité à ses cours. Elle aime nous surprendre avec un cours de Barre Fit sur le thème d'Halloween ou des années 80 par exemple.
J'apprécie vraiment la variété qu'offre Barre Fit et les différents accessoires que nous utilisons. Il y a des rafales cardio, un conditionnement musculaire, un travail abdominal pour n'en citer que quelques-uns.
MOMENTS FAVORIS?
Mon moment communautaire préféré, c'était à quel point c'était génial de participer à mon premier cours en plein air L'ATELIER dans la cour d'école Forest Hill SR après le verrouillage du printemps. Je suis très reconnaissant que le propriétaire et les instructeurs nous aient fourni ces cours gratuits tout en collectant des fonds pour des causes vraiment importantes.
L'EXPÉRIENCE VIRTUELLE?
Je suis tellement reconnaissant pour le service de diffusion en direct. C'est la meilleure chose à faire pour être en studio avec tout le monde. Rien ne remplace l'énergie en studio, mais cela me motive certainement lorsque je fais un cours avec d'autres visages familiers.L'administration a réagi rapidement et s'est adaptée avec la technologie afin de permettre aux étudiants de participer de chez eux. Ce fut une grâce salvatrice pour moi et ma santé mentale. En raison du verrouillage actuel et du fait que je travaille à domicile, je n'utilise pas la bibliothèque. Mais c'est une excellente option et je l'utiliserai probablement une fois que les verrouillages / restrictions auront été supprimés et que nous pourrons à nouveau nous réunir avec la famille et les amis.
QUE DIRIEZ-VOUS À QUELQU'UN QUI ENVISAGE DE REJOINDRE LE STUDIO?
Il existe une grande variété de cours parmi lesquels choisir et s'adressent à tous les niveaux, du débutant au avancé. Les moniteurs apportent toujours des modifications. Avec l'option de la bibliothèque, les classes peuvent s'adapter à n'importe quel horaire.
Quand j'ai commencé à suivre des cours à l'ATELIER en 2018, j'ai commencé avec Pound, deux fois par semaine. Mais j'ai découvert d'autres classes comme Barre Fit et Strong que j'apprécie vraiment aussi!
FAITES L'EXPÉRIENCE PAR VOUS-MÊME! REJOIGNEZ NANCY EN COURS MAINTENANT ⇩
NANCY'S FAVOURITE CLASSES:
Pound, Pilates, Barre Fit
FAVOURITE INSTRUCTOR(S):
Karen Q & Karen JT
WHY?
Karen Q. is a caring, energetic and enthusiastic person. She always wants us to get the most out of our class and likes her music, loud!! She likes to challenge her students and does so with a little, evil laugh! She teaches Pound and Pilates, among others.
Pound is my favorite class – EVER! It passes by so quickly and that is key for me. It is so true, time flies when you are having fun!
I love the quick progress and results of Pilates! Each week, you build your strength and endurance. Truly works your core and tones your whole body.
Karen JT is a great motivator and brings spontaneity to her classes. She likes to surprise us with a Halloween or 80's themed Barre Fit class for example.
I really enjoy the variety that Barre Fit offers and the different props we use. There are cardio bursts, muscle conditioning, ab work to mention a few.
FAVOURITE MOMENT?
My favourite community moment, was how great it felt to participate in my first L'ATELIER outdoor class in the Forest Hill SR schoolyard after the spring lockdown. I'm very appreciative that the owner and the instructors provided these free classes for us while raising money for really important causes.
THE VIRTUEL EXPERIENCE?
I am so thankful for the live streaming service. It is the next best thing to being in studio with everyone. Nothing replaces the in-studio energy, but it certainly motivates me when I'm doing a class with other familiar faces.The administration reacted quickly and adapted with technology in order to enable students to participate from home. This was a saving grace for me and my sanity. Due to the current lockdown and that I work from home, I don't use the library. But it is a great option and I will probably use it once the lockdowns/restrictions have been removed and we can get together with family and friends again.
WHAT WOULD YOU SAY TO SOMEONE CONSIDERING JOINING THE STUDIO
There is a great variety of classes to choose from and are for all levels from beginner to advanced. The instructors always provide modifications. With the option of the library, classes can fit any schedule.
When I started doing classes at l'ATELIER in 2018, I started with Pound, twice a week. But have discovered other classes like Barre Fit and Strong that I really enjoy too!
EXPERIENCE IT FOR YOURSELF! JOIN NANCY IN CLASS NOW ⇩