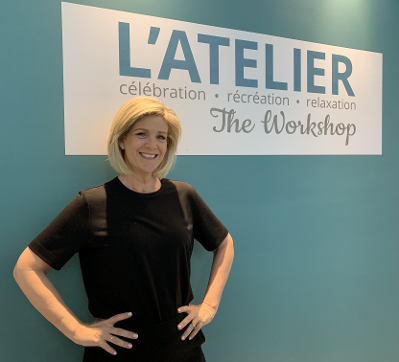 COURS PRÉFÉRÉS DE SUE:
Cardio Core + More, Zumba+Bootcamp & Zumba Shannon
ENTRAÎNEURS PRÉFÉRÉ(S):
Shannon Blackwood
POURQUOI?
Les trois classes sont dirigées par Shannon Blackwood – un entraîneur concentré et à laquelle on peut s'identifier qui marche la marche. Shannon ne se contente pas de vous dire quoi faire - elle le fait avec vous à chaque étape du processus.
Lorsque j'ai trouvé pour la première fois le courage d'assister à un cours de Zumba il y a environ 5 ans, j'étais une femme d'âge moyen pas en forme et avec très peu de confiance pour pouvoir suivre une programme de fitness. Dès le premier jour, Shannon m'a fait sentir la bienvenue, et son attitude « je peux faire » m'a fait revenir pour plus. Son soutien indéfectible m'a donné la confiance nécessaire pour essayer différentes classes et continuer à me dépasser, même lorsque je ne pensais pas l'avoir en moi. Chaque jour depuis qu'elle m'a aidé à réaliser à quel point je suis fort.
Que vous soyez à un niveau de fitness débutant, intermédiaire ou avancé, Shannon prend le temps de vous montrer les mouvements et propose des alternatives pour chaque capacité - avec juste ce qu'il faut d'encouragement pour vous pousser un peu plus loin en toute sécurité.
Shannon rafraîchit ses cours avec de nouvelles danses, routines et exercices pour vous mettre au défi, et ils sont toujours très amusants avec des listes de lecture de musique que vous ne pouvez pas vous empêcher de chanter. Je quitte toujours ses cours avec le sourire aux lèvres et un ressort dans ma démarche – j'attends déjà avec impatience la prochaine session.
Shannon poussera votre corps à ses limites et vous remontera le moral – le tout en une heure qui deviendra rapidement un moment fort de votre journée.
L'EXPÉRIENCE VIRTUELLE?
Je dois admettre que je n'étais pas très ouvert d'esprit sur les classes virtuelles au début, mais j'avais totalement tort. L'équipe de L'ATELIER a rapidement mis le système en place et les cours ne pouvaient pas être mieux. La danse Zumba avec tout le monde en personne me manquait, mais maintenant que j'ai à nouveau le choix, je continue à utiliser l'option virtuelle pour les cours Cardio Core+More. Que ce soit en personne ou virtuellement, ces cours sont remplis de rires, de sourires et de chants, et ils sont le point culminant de ma journée.
QUE DIRIEZ-VOUS À QUELQU'UN QUI ENVISAGE DE REJOINDRE LE STUDIO?
Je recommande fortement L'ATELIER à tous ceux qui veulent se mettre en forme. Il propose une telle variété de cours et d'entraîneurs adaptés à chaque personnalité. Super endroit. Super horaire. Et une ambiance incroyable et amicale qui ne peut pas être battue.
FAITES L'EXPÉRIENCE PAR VOUS-MÊME! REJOIGNEZ SUE EN COURS MAINTENANT ⇩
SUE'S FAVOURITE CLASSES:
Cardio Core + More, Zumba+Bootcamp & Zumba Shannon
FAVOURITE INSTRUCTOR(S):
Shannon Blackwood
WHY?
All three classes are led by Shannon Blackwood – a focused and relatable trainer who walks the walk. Shannon doesn't just tell you what to do – she's there doing it with you every step of the way.
When I first found the courage to attend a Zumba class about 5 years ago, I was a very out-of-shape, middle aged woman with very little confidence about being able to keep up with any sort of fitness program. From day one Shannon made me feel welcome, and her 'can do' attitude kept me coming back for more. Her unwavering support gave me the confidence to try different classes and keep pushing myself, even when I didn't think I had it in me. Every day since she has helped me realize how strong I really am.
Whether you're at a beginner, intermediate or advanced fitness level, Shannon takes the time to show you the moves, and provides alternatives for every ability – with just the right amount of encouragement to make you safely push yourself a little farther.
Shannon keeps her classes fresh with new dances, routines and exercises to keep you challenged, and they're always super fun with music playlists that you can't help but sing along. I always leave her classes with a smile on my face and a spring in my step – already looking forward to the next session.
Shannon will push your body to its limits and lift your spirits – all in one hour that will quickly become a highlight of your day.
THE VIRTUEL EXPERIENCE?
I have to admit I wasn't very open-minded about virtual classes at first, but I was totally proven wrong. The L'ATELIER team got the system up and running quickly, and the classes couldn't be any better. I missed Zumba dancing with everyone in person, but I now that I have the choice again, I continue to use the virtual option for the Cardio Core+More classes. Whether in-person or virtually, these classes are filled with laughter, smiles and singing, and they're the highlight of my day.
WHAT WOULD YOU SAY TO SOMEONE CONSIDERING JOINING THE STUDIO
I highly recommend l'ATELIER to anyone who wants to get in shape. It has such a variety of classes to choose from and trainers to suit every personality. Great location. Great schedule. And an amazing, friendly vibe that can't be beat.
EXPERIENCE IT FOR YOURSELF! JOIN SUE IN CLASS NOW ⇩